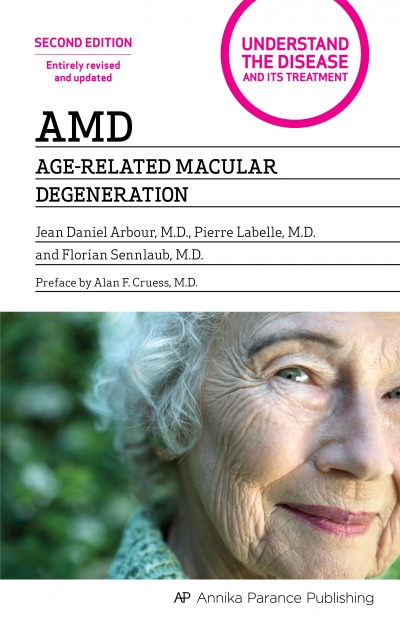 Purchase online
Table of contents
Preface by Alan F. Cruess, M.D.
Second edition entirely revised and updated
"Understand the Disease and Its Treatment" series
AMD affects one million Canadians, yet it is still poorly understood and causes much anxiety to those diagnosed with it: Will I go blind? Will I be able to lead a normal life? Can I be cured?
This book addresses these and many other questions to help in understanding the impact of AMD in everyday life. In addition, the latest advances in AMD research are explained, as major therapeutic breakthroughs that have considerably improved the quality of life of people with AMD have been made in recent years and new treatments under development hold even more promise for the future.
Doctors answer the most frequently asked questions
Understanding AMD

What is AMD?
How the eye and the retina work
How we see

The two forms of AMD
Risk factors

A word about causes
Risk factors

Diagnosis

Early detection
Comprehensive eye examination
Fundus autofluorescence
Fluorescein angiography
Optical coherence tomography (OCT)
Ultrasound

Prevention and treatment

Preventing or slowing the progression of AMD
Treating dry AMD
Treating wet AMD

Living with AMD

Low vision rehabilitation
Vision aids and other useful products
Adapting the home
Adapting the workplace
Getting around
Help from family
Specialized psychosocial services

Treatments of the future

Future drugs
Future antiangiogenic therapies
Gene therapy
Stem cell transplantation

Useful addresses
Glossary