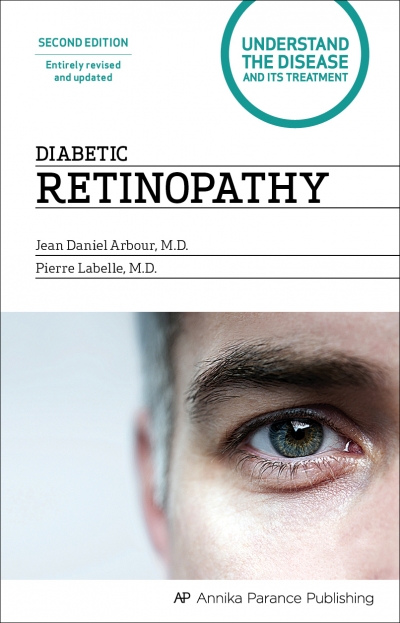 Purchase online
Table of contents
Preface by Andrée Boucher, M.D.
Second edition entirely revised and updated
"Understand the Disease and Its Treatment" series
Approximately 2.4 million Canadians suffer from diabetes and are likely to develop diabetic retinopathy. This disease of the retina caused by diabetes affects 99 percent of people with type 1 diabetes and 60 percent of those with type 2 diabetes in the first 20 years after the onset of diabetes. Early detection has thus become a major issue in the fight against diabetic retinopathy, especially since very effective treatments are available that can not only slow progression of the disease but also even restore lost vision.
Written in simple and clear language, by doctors specializing in eye disorders, this book covers all aspects of the disease and provides important information for those who have diabetic retinopathy and people close to them.
Doctors answer the most frequently asked questions
Understanding diabetic retinopathy

What is diabetic retinopathy?
How the eye and the retina work
How we see

Forms and symptoms of diabetic retinopathy

Nonproliferative diabetic retinopathy
Proliferative diabetic retinopathy
One person's story

Causes and risk factors

Cause of diabetic retinopathy
Risk factors
One person's story

Diagnosis

Early detection
Comprehensive eye examination
Fundus photography
Optical coherence tomography (OCT)
Fluorescein angiography
Ultrasound
One person's story

Prevention and treatment

Preventing or slowing the progression of diabetic retinopathy
Treating diabetic retinopathy
One person's story

Living with diabetic retinopathy

Low vision rehabilitation
Vision aids and other useful products
Adapting the home
Adapting the workplace
Getting around
Help from family and friends
Specialized psychosocial services
One person's story

Treatments of the future

Future drugs
Future antiangiogenic therapies
Gene therapy
Stem cell transplantation

Useful addresses