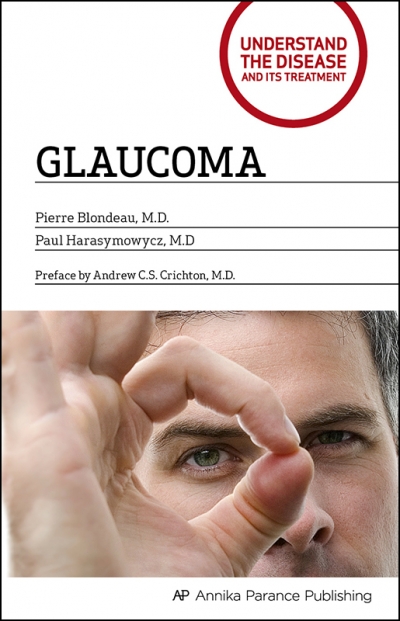 Purchase online
Table of contents
Preface by Andrew C.S. Crichton, M.D.
"Understand the Disease and Its Treatment" series
About 400,000 Canadians suffer from glaucoma. In fact, this chronic eye disease affects 1% to 3% of the population of the Western world age 40 and over, and its incidence increases with age—reaching 10% in people over 80. Glaucoma is an extremely insidious disease. It can destroy the functional capacity of the eyes irreversibly and without warning. Screening is thus a major issue in the fight against glaucoma, especially as there are effective treatments that can prevent or slow progression of the disease.
Written in simple and clear language by doctors specializing in eye disorders, this book covers all aspects of the disease and provides important information for those who have glaucoma and the people close to them:
The different forms and symptoms of glaucoma
Known causes and risk factors
Diagnostic tests
Prevention
Drug therapies, laser treatments and surgical procedures 
Daily living with glaucoma
Treatments of the future
25 most frequently asked questions (FAQs) about glaucoma 
Useful addresses
Doctors answer the most frequently asked questions
Understanding glaucoma

What is glaucoma?
The mechanism of glaucomatous damage
How the eye works
How we see

Forms and symptoms

A word about symptoms
Glaucoma suspect
Primary open-angle glaucoma
Secondary open-angle glaucoma
Primary angle-closure glaucoma
Secondary angle-closure glaucoma
Glaucoma in children
What you need to know
One person's story

Risk factors

Known risk factors
Probable risk factors
One person's story

Diagnosis

Early detection
Comprehensive eye examination
Eye imaging
One person's story

Prevention and treatment

Preventing glaucoma or its progression
Drug therapies
Laser treatments
Surgery
One person's story

Living with glaucoma

Psychological impact
Getting around
Sports and leisure
Lifestyle and nutrition
Glaucoma and other eye disorders
Low vision rehabilitation
Television and computer screens
Pregnancy and breastfeeding

Treatments of the future

Future drugs
Personalized medicine
Diagnostic imaging and surgical techniques
New implants
Gene therapy
Stem cell transplantation

Useful addresses